Outskirts of Things



series 1) a morning spent 2020
pigment prints, dimensions variable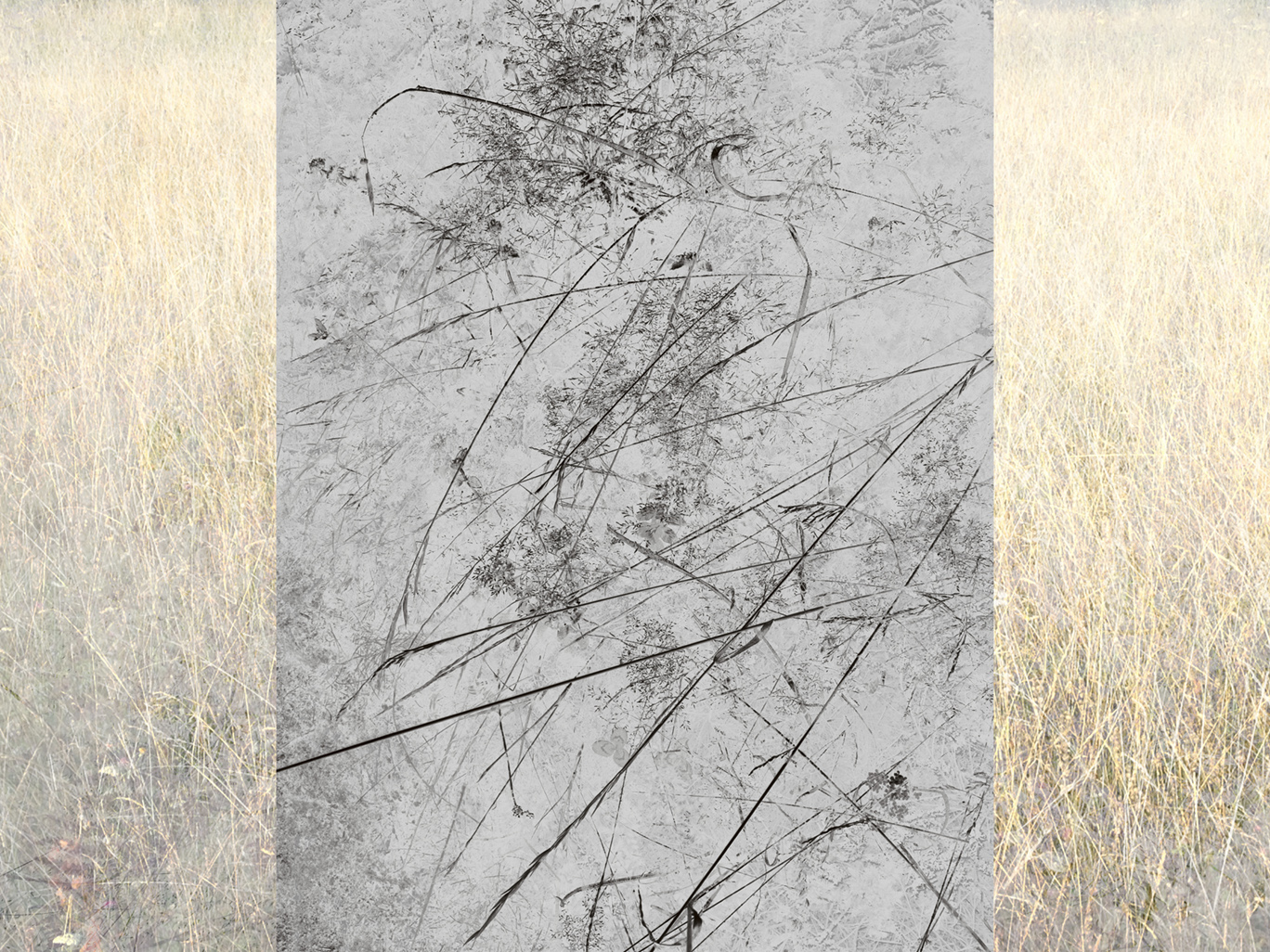 a morning spent
treading on the genderless spirits
of angels trapped in the underbrush
all of us destined to return
again and again unless
we beg to diffe2
unless we decline the invite
and simply refuse
to come
back

mixing memory and direct perception
same old same old movement into unfathomable detail

along a wayward path scrambling toward the outcrop
of rock and bramble, long early morning light
raking across the embankments, highlighting this and that
while the rest falls into shadow

this is not a metaphor

thinking back, seed pods
must have rattled as I passed
there must have been the hum and buzz
of insects flitting by or busy
buried in the brush
there must have been a faint record
of my own breathing as I tramped
but as of here and now
I am not able to recall
any sound
at all



2) Low Country 2019
pigment prints, dimensions variable






3) Little Nankoweap 2021
pigment prints, dimensions variable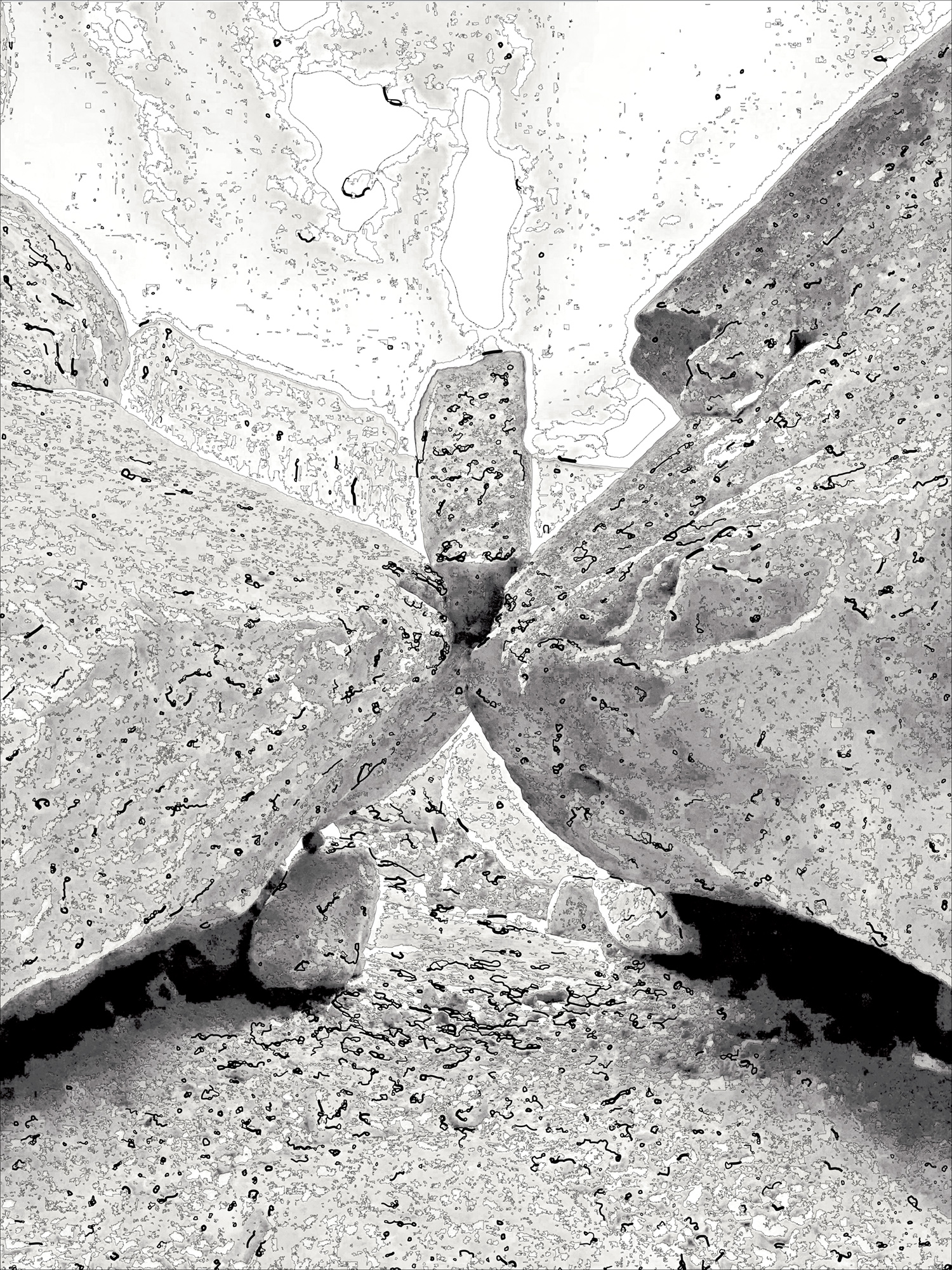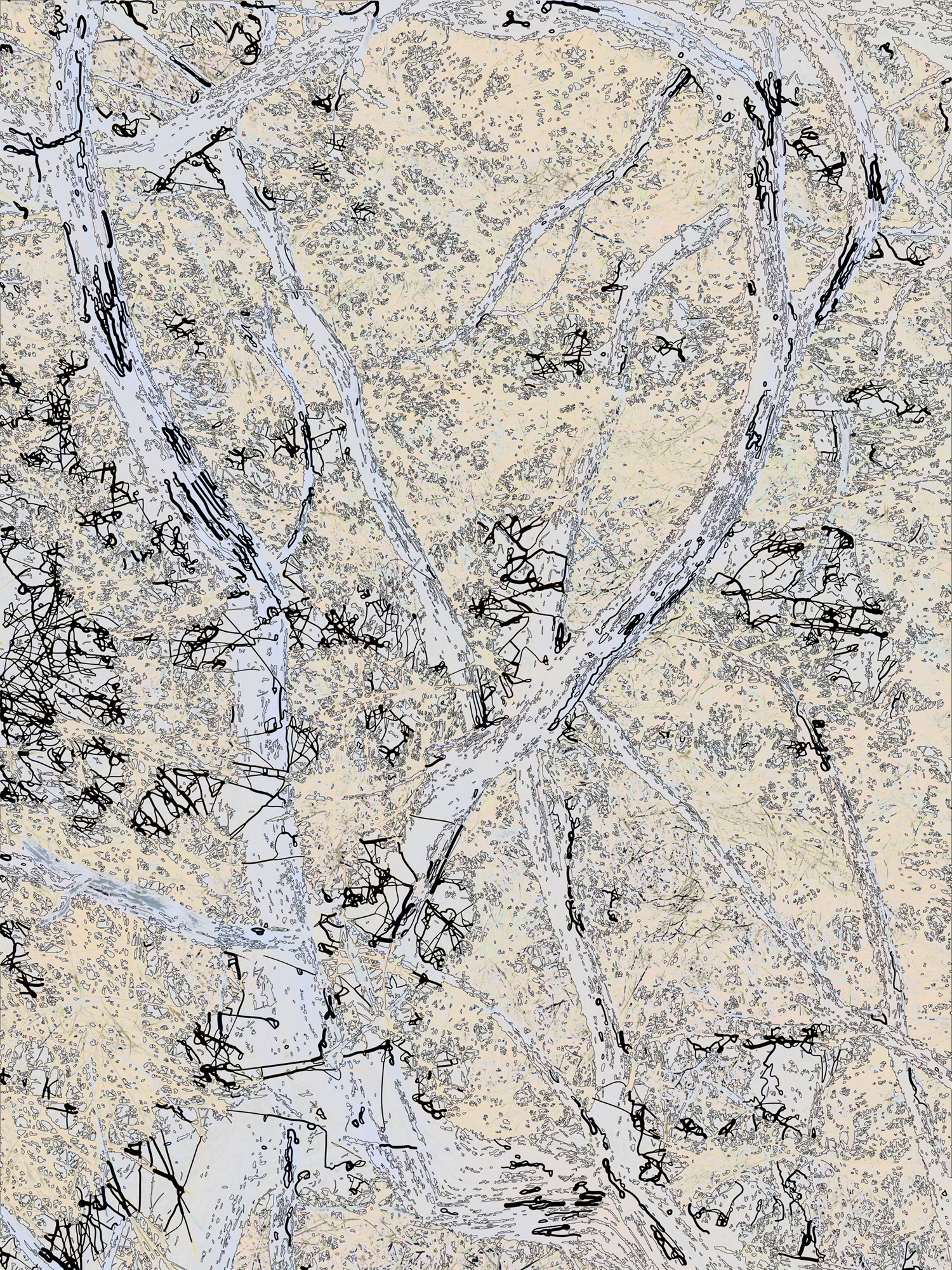 4) Garden of Recollection Folio A: 2005 - 2015
pigment prints, dimensions variable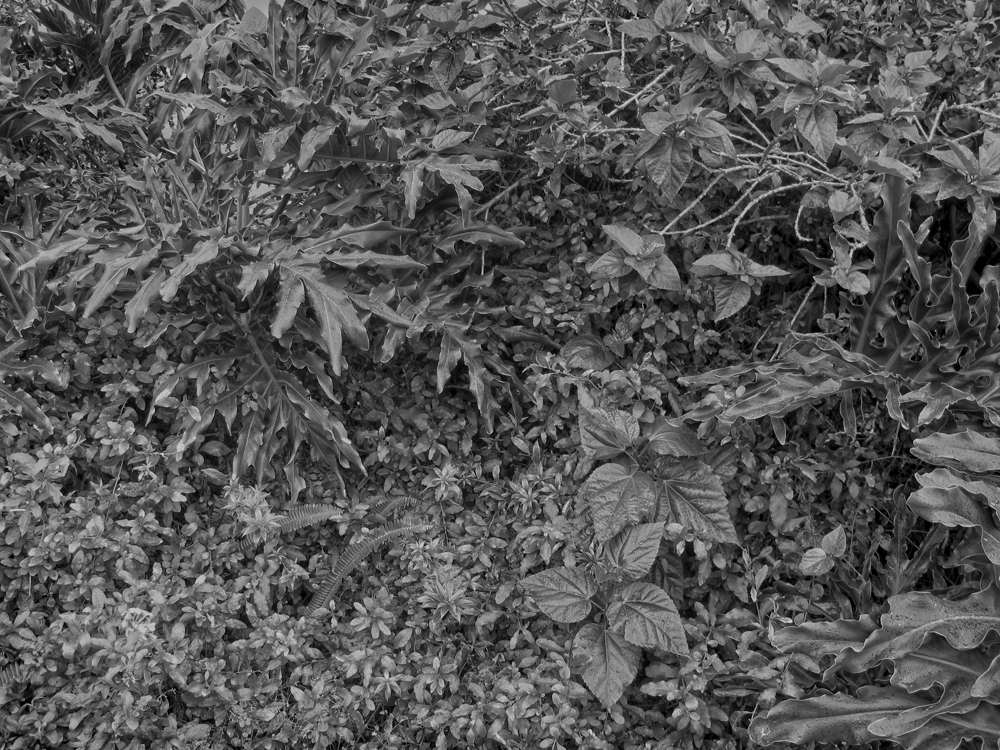 5) Garden of Recollection Folio B: 2020
pigment prints, dimensions variable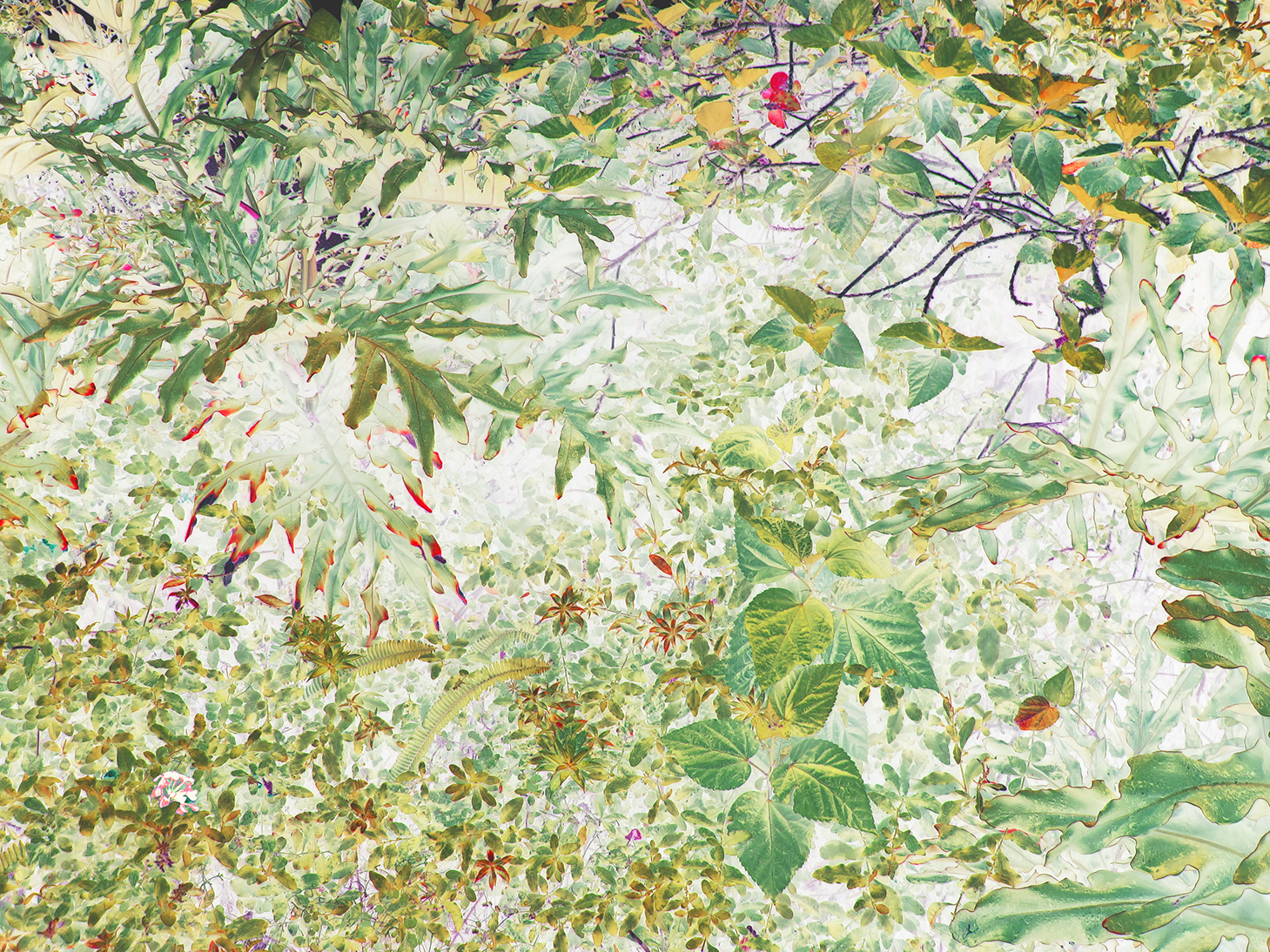 6) Garden of Recollection Folio C - 32 Drawings 2016
sumi pen and ink wash on Indian rag paper, each 8.5 x 11 inches





© 2021 Tim Trompeter
Dragon Swallows Moon 2020


Published in January 2020, this 148 page book is a parallel narrative of photographs and text one-liners punctuated with quick minimalist abstractions. It is a process of reorientation, a kind of hypertext document with many branching meanings pointing toward the hoped-for possibility of finding one's way.

© 2021 Tim Trompeter
Thistles and Glyphs
pigment prints, dimensions variable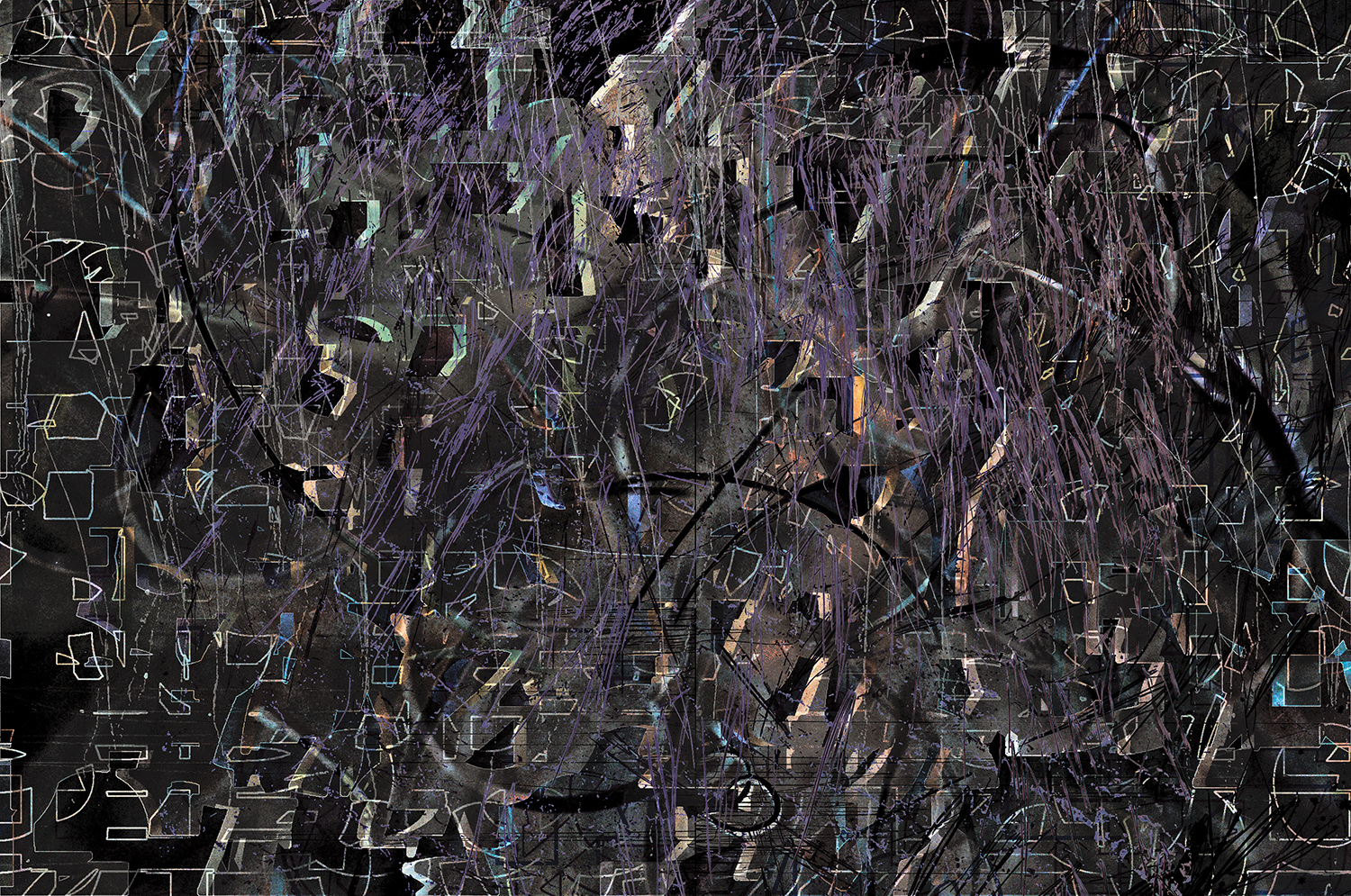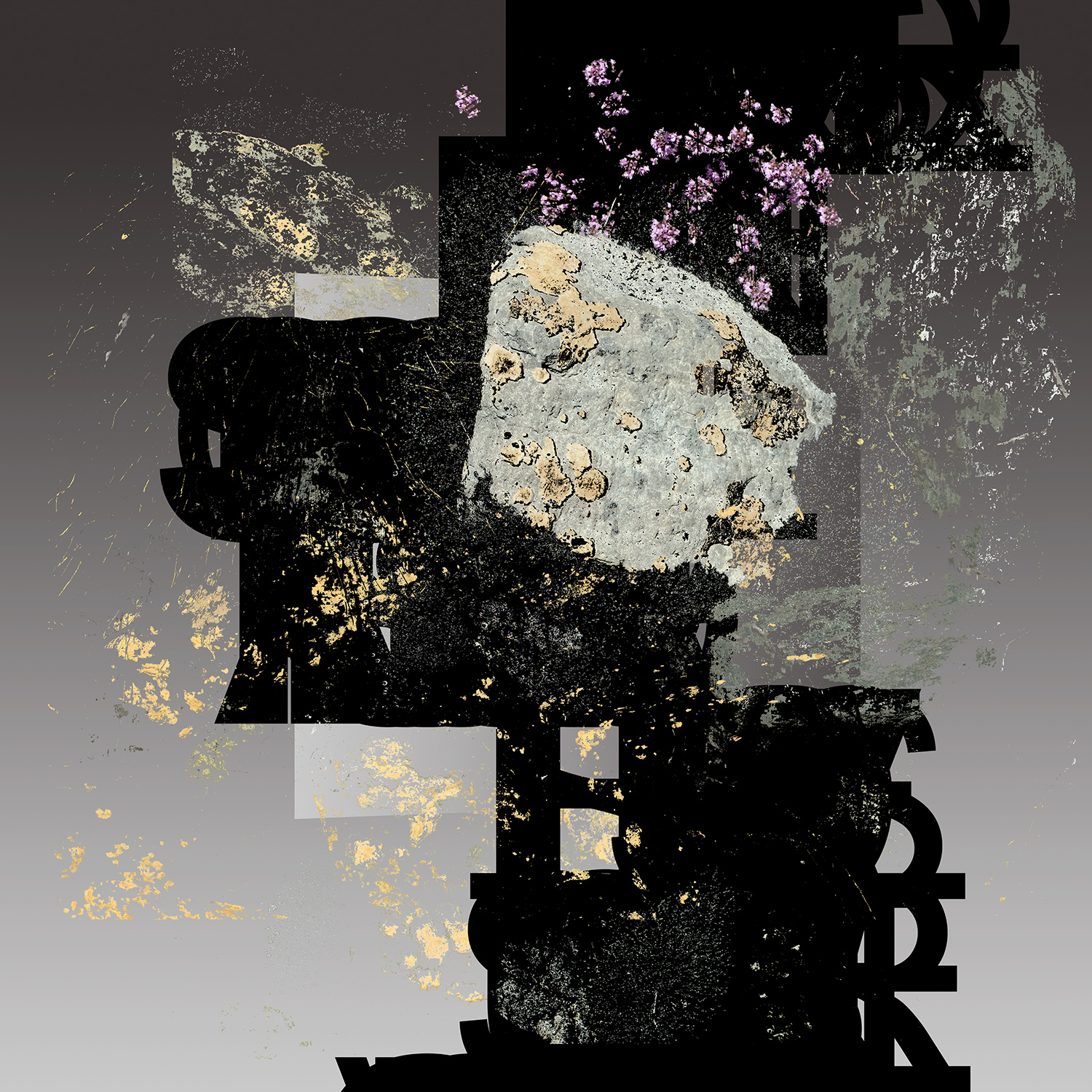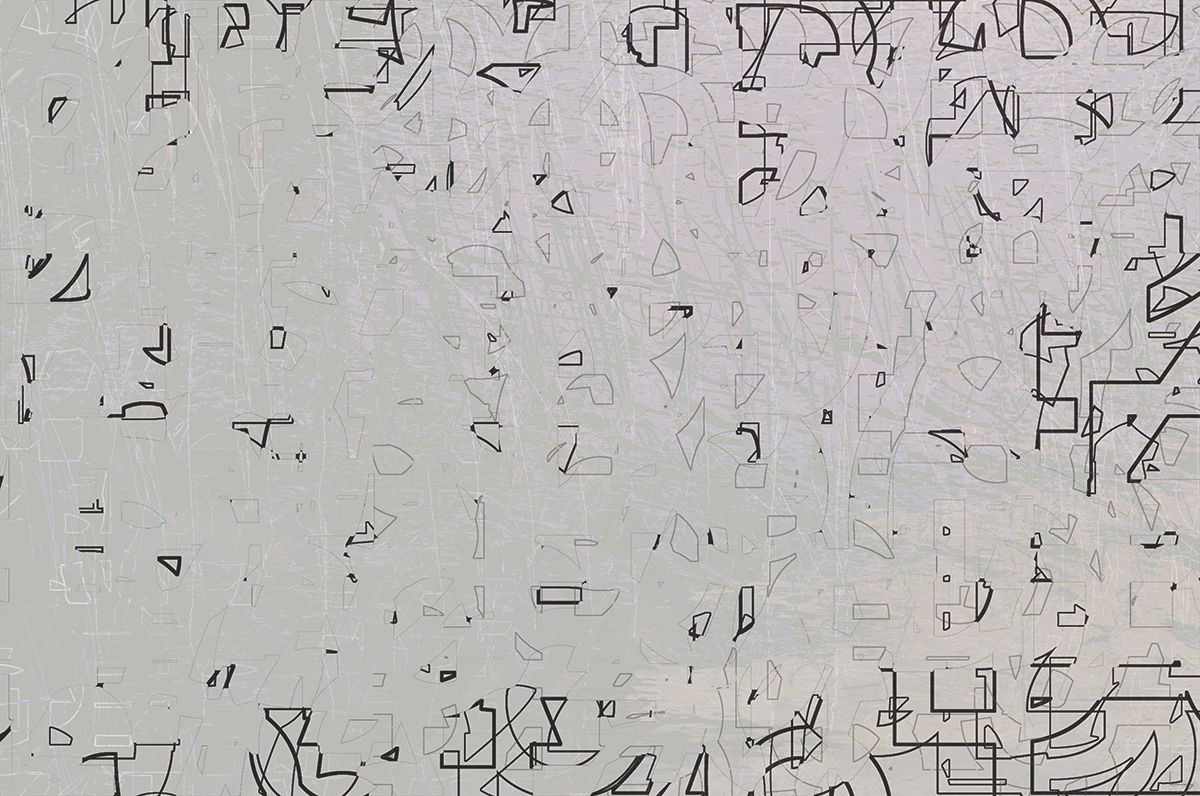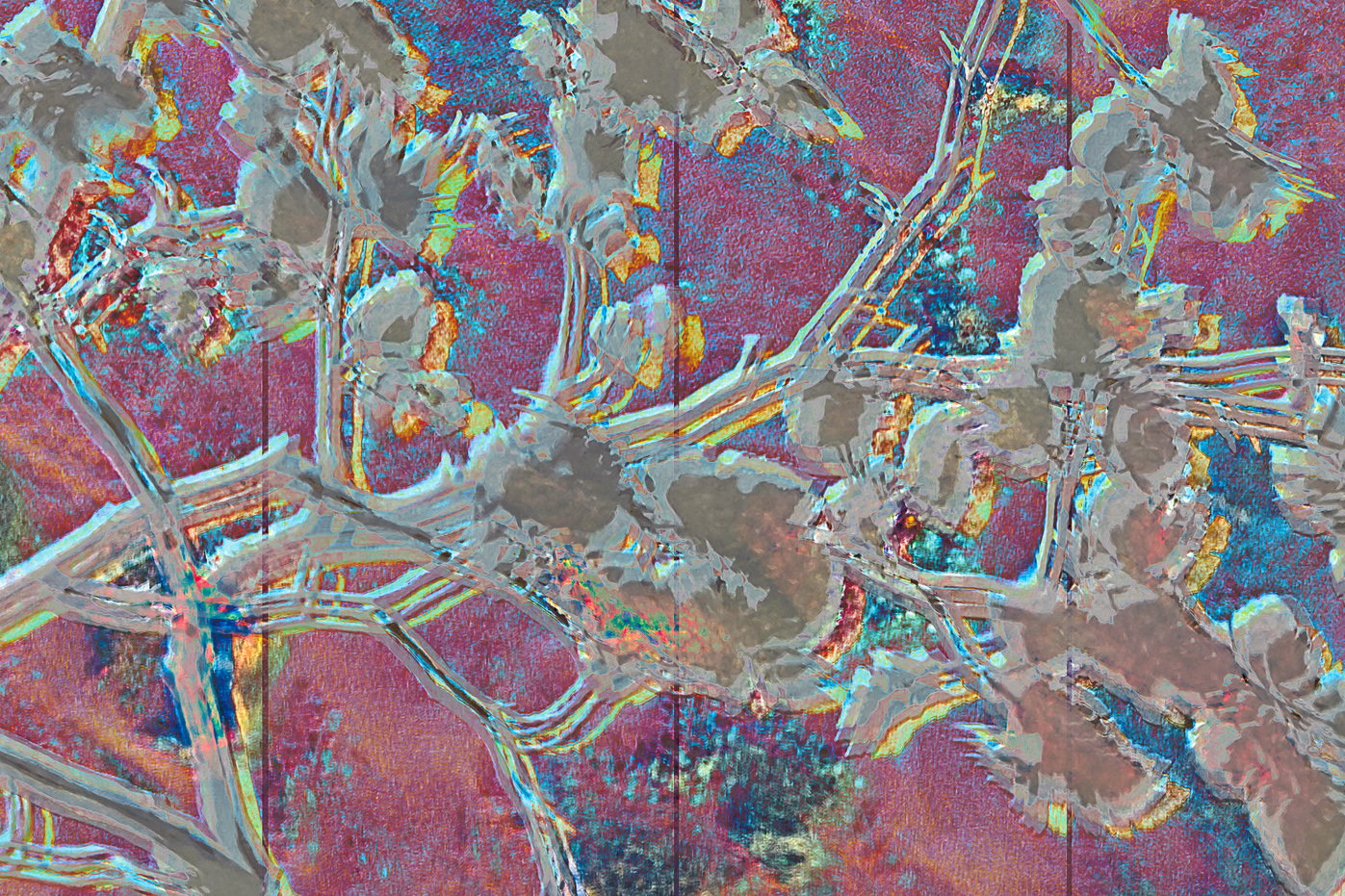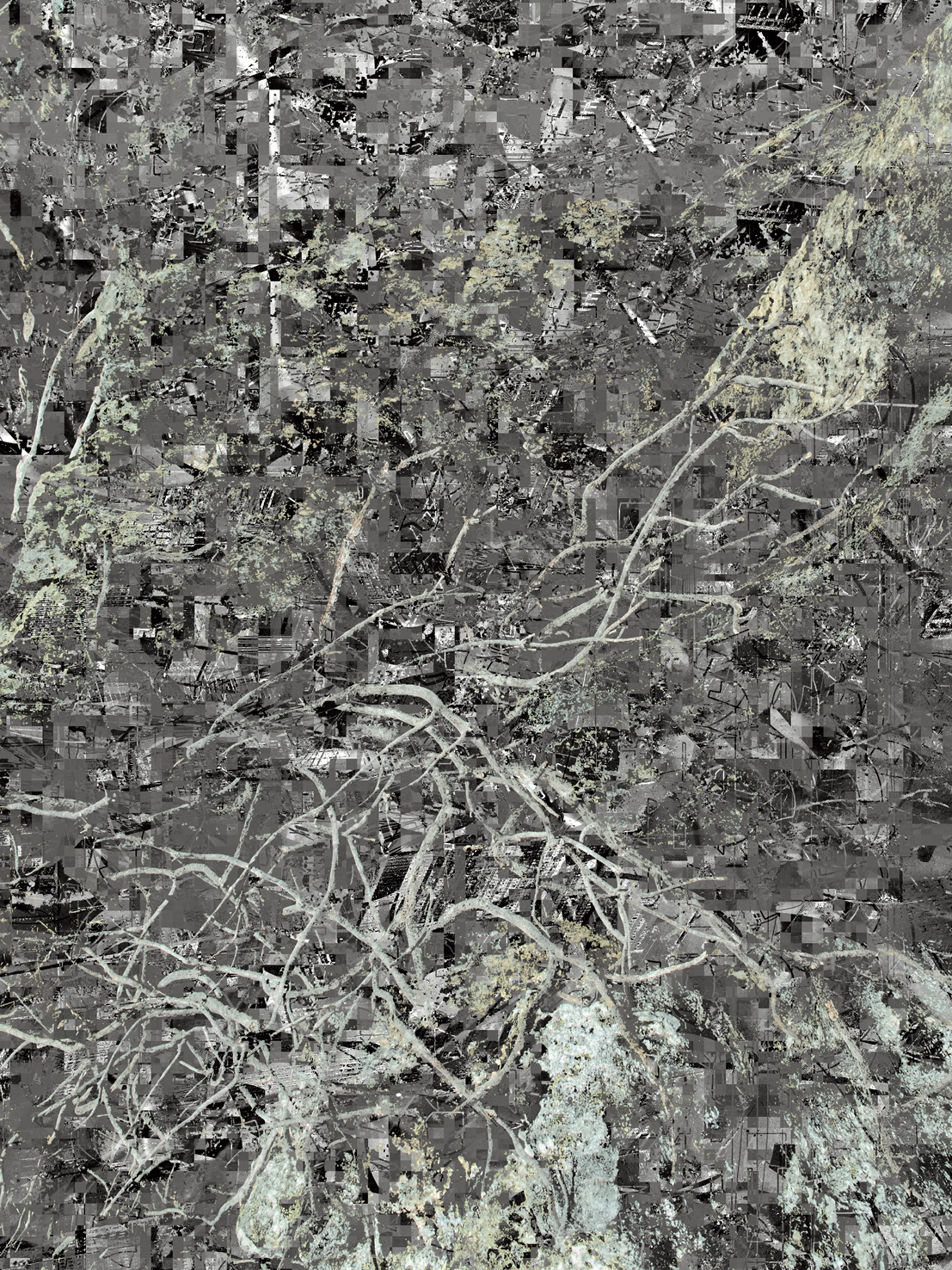 After Memling: A Jug of Flowers 2016
monoprint: pigment print and oil stick, 30 x 48 inches

Up Needs Down Like Down Needs Up 2017
Monoprint in two connected sections with an inlaid white gold leaf central line and wooden dowel "hitch" with wrapped embroidery floss. 34 x 52 inches framed
Aquinas and his Holy Book 2017
pigment print dimensions variable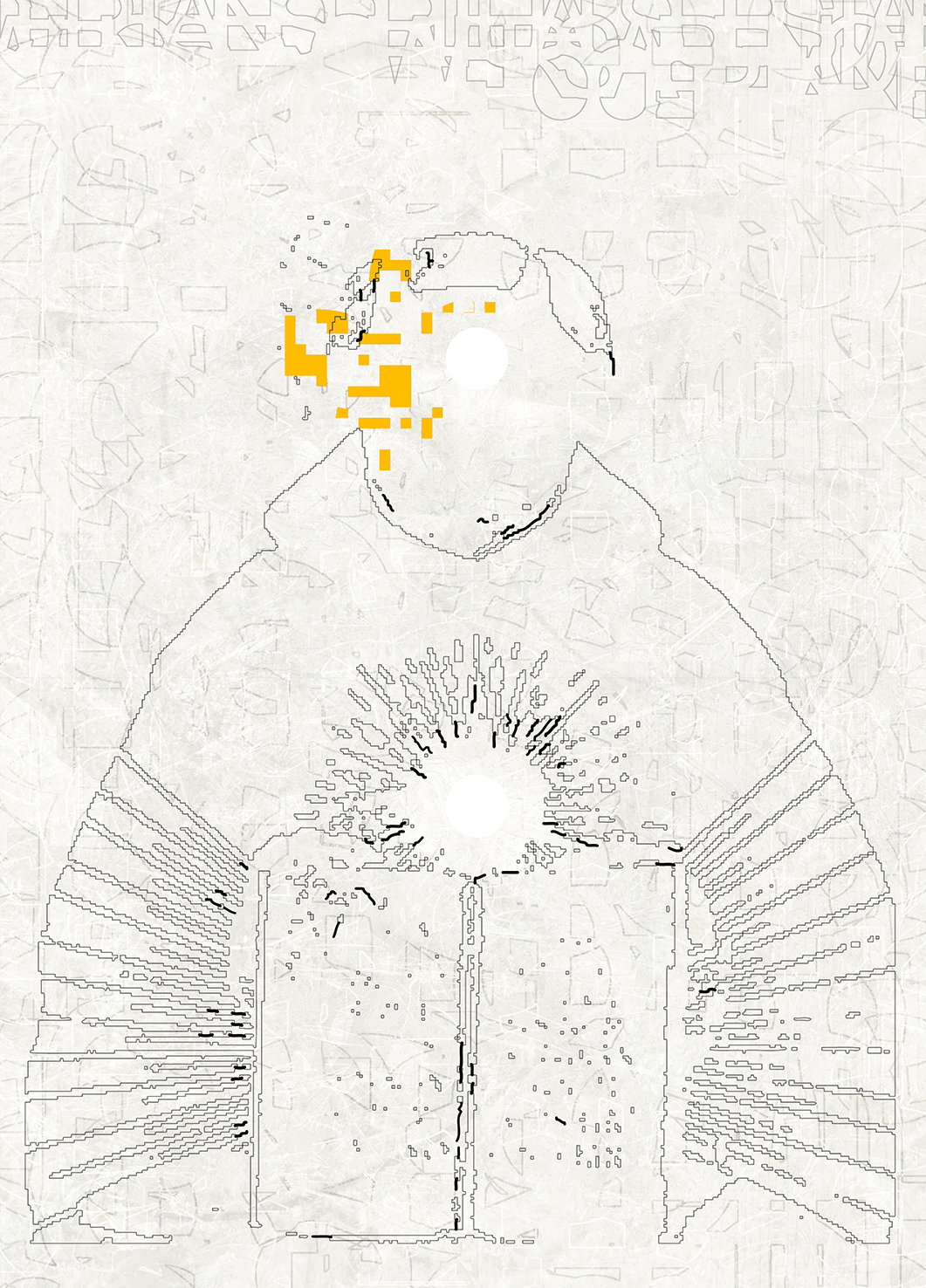 SCROLLS pigment prints, each approximately 15 x 48 inches


Breaking the Swing (after Fragonard) 2017

Bather 2018

There Should Be An Inner Clock 2017


THISTLES AND GLYPHS


Visualize an abstracted version of the natural world, somewhere between landscape, still life and data.

Each attempt edges away from the particular and tilts toward a set of circumstances.

It's worth remembering that it serves no useful purpose to deconstruct what Beauty is, unless you'd like to get rid of it.


Source Materials



1) randomized Biblical text fragment:

SEEM TO BE NOT HEAR THEREFORE RESTORE THE TOKEN OF THE CHILDREN AND FROM THEE OF THE LAND IN SILVER AND HE SOUGHT THY SEED I HAVE NOTHING TO PASS ON TO OUR FATHER'S HOUSE REPLENISH THE DROVES SAYING ALL FLESH WHEREIN IS STUBBORN AND HE MADE OBEISENCE TO HIS DREAMS AND FOR ME HE GIVETH GOODLY WORDS A DREAM BEHOLD HITHERTO THOU SHALT NOT AND THE HAND THE DOOR AND IT WAS CLOSED A FAIR WOMAN TO THEE BUT IF HE SAID I MAY BLESS THEE IN A POSSESSION OF MOURNING BOUND UP EARLY IN THE LAND WHERE ART MY SOUL AND HE KNELT AT THE GATE OF THE MOUNTAIN

2) random integers generated by atmospheric noise:

8F709CE2526CF11CB0759A59F82B57CD36DFE054BC641CCCDB814D2CD780351BAF96A5456F96614E2C7B797926E81C7D90BC653FA5FF7E515E3CB3070726748AE75E2158E2752F5741491B516478D046BCF447FAF44F08AF4CF20C9F9B58E25E2BBBCEC0AB29A31BAD571D869CC13059B0D159DCD67496CF5FE5808462535D184D3376BFACB524C6F4D950B62ED4C9D785140E639D262F20CD87C4E24A4E9164941D444E91A5EA0AA53CF12032EFD284253A4DAF5CC7496388AB55E97617ABC94A14558D99589B23BA0F535377B7D72A85302B6DA6D93254E38DA12415516A72A60C4C495F24715226A5990E5DDC864A2B1E00884E0E57778E16C8BAFB7

3) bitmap image fragments of moss, stone, water and flora

4) vector reconstruction of lost information through heuristic image tracing




© 2021 Tim Trompeter

Foreground Notes
Foreground Notes is a long-term project that employs drawing, film photography and digital imaging to explore new possibilities in the comprehension and representation of nature.
Culvert (Winter and Spring) 2008
Each drawing sequence, and many of the photographic images, trace the linear contours and calligraphic markings of detail we routinely overlook.
Dans la Nature, l'Écriture
Consecutive drawings record a syntax in seeing and marking.
Linesets: sumi pen, brush and india ink on paper.

Lineset: sumi pen, brush and india ink on paper
The natural world is noisy and chaotic, systematic yet open-ended, patterned, complex and indifferent. There is an oscillation between structure and chaos, between ordering and disordering, between melody and static. The entire process plays out right in front of our noses.
One Picture Six Ways 2014
pigment print 15 x 30
Lineset: sumi pen, brush and india ink on paper

The Foreground Notes project includes more than 900 ink and wash drawings, scores of archival pigment prints of various dimensions, video/animation loops and an archive of thousands of film and digital photographs.


Cascade 2014
pigment print 17 x 52 inches
Four Ways to See Dewdrops 2004
Linesets: sumi pen, brush and india ink on paper
Etang Noir (Black Pond) 2012 - 2018
not your mother's rococco
pigment prints dimensions variable
Drawingwall Splits 2007

pigment printe, dimensions variable

Rockneedle 2003
Lineset: sumi pen, brush and india ink on paper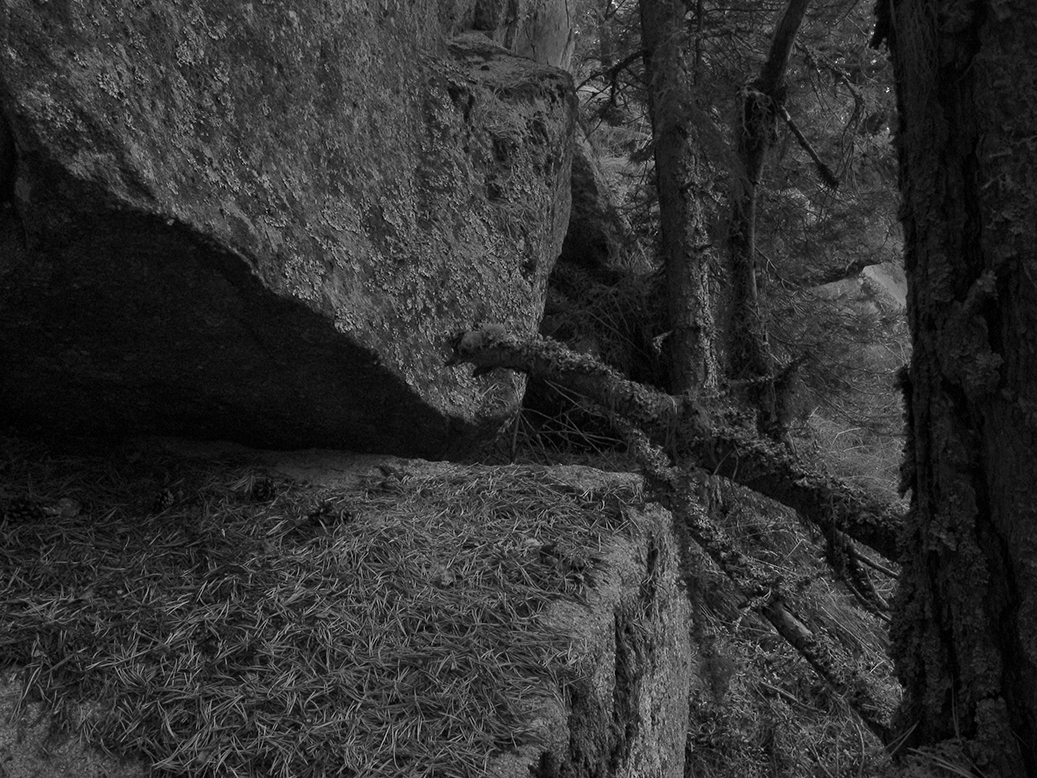 Drawingwall scroll 03 2014
pigment print 15 x 48 inches
The Foreground in Winter 2017
pigment prints, dimensions variable
Scree Walk 2008
15 sumi pen drawings on paper + video loop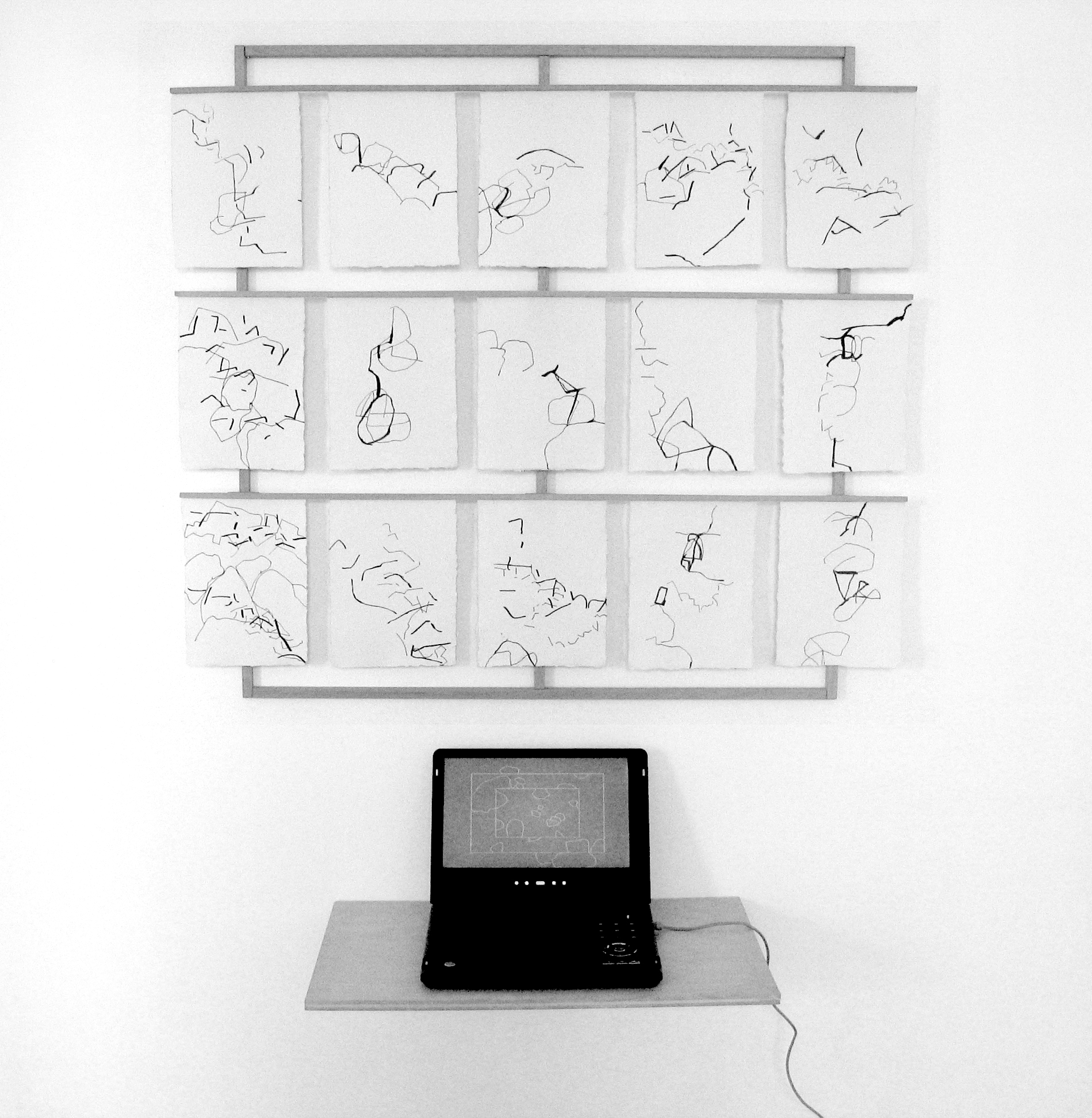 At Rest: Balbonne

sumi pen, brush and ink on paper 8 x 10 inches





The Endless Loop of Positive and Negative 2021


Drawingwall scroll 01 - cut and stacked, horizontal to vertical

pigment print 15 x 60 inches





© 2021 Tim Trompeter
Lobster Flats

This project began as a winter walk around a barren, dulse-strewn tidal plain on Grand Manan, the largest of New Brunswick, Canada's rocky islands in the Bay of Fundy. Over the decades, local lobstermen constructed a vast, interconnected network of containment ponds there, standing like stockades on a cobble and sand plain that emerges waterlogged from the sea with every ebb tide. Freshly caught lobsters are kept alive in these holding ponds until market time. At low tide, the wooden walls and tall poles that demarcate the rectangular ponds tower high in the air.

On clear and windless days the quiet ponds left behind by the retreating water become surreal reflecting pools; their slatted walls appear to float in the reflected sky. Water trickles underfoot, always on the move. After the tide turns and the sea rushes in again, all that protrudes from the surface of the bay are the forlorn tops of the weatherbeaten, walled-in pens.

That December afternoon, a chill wind sizzled through the vertical wooden slats draped in seaweed, rope and netting, adding a treble-tone to the mental music I heard: a faint, repeating, patterned loop of low drones, clicks and snippets of song.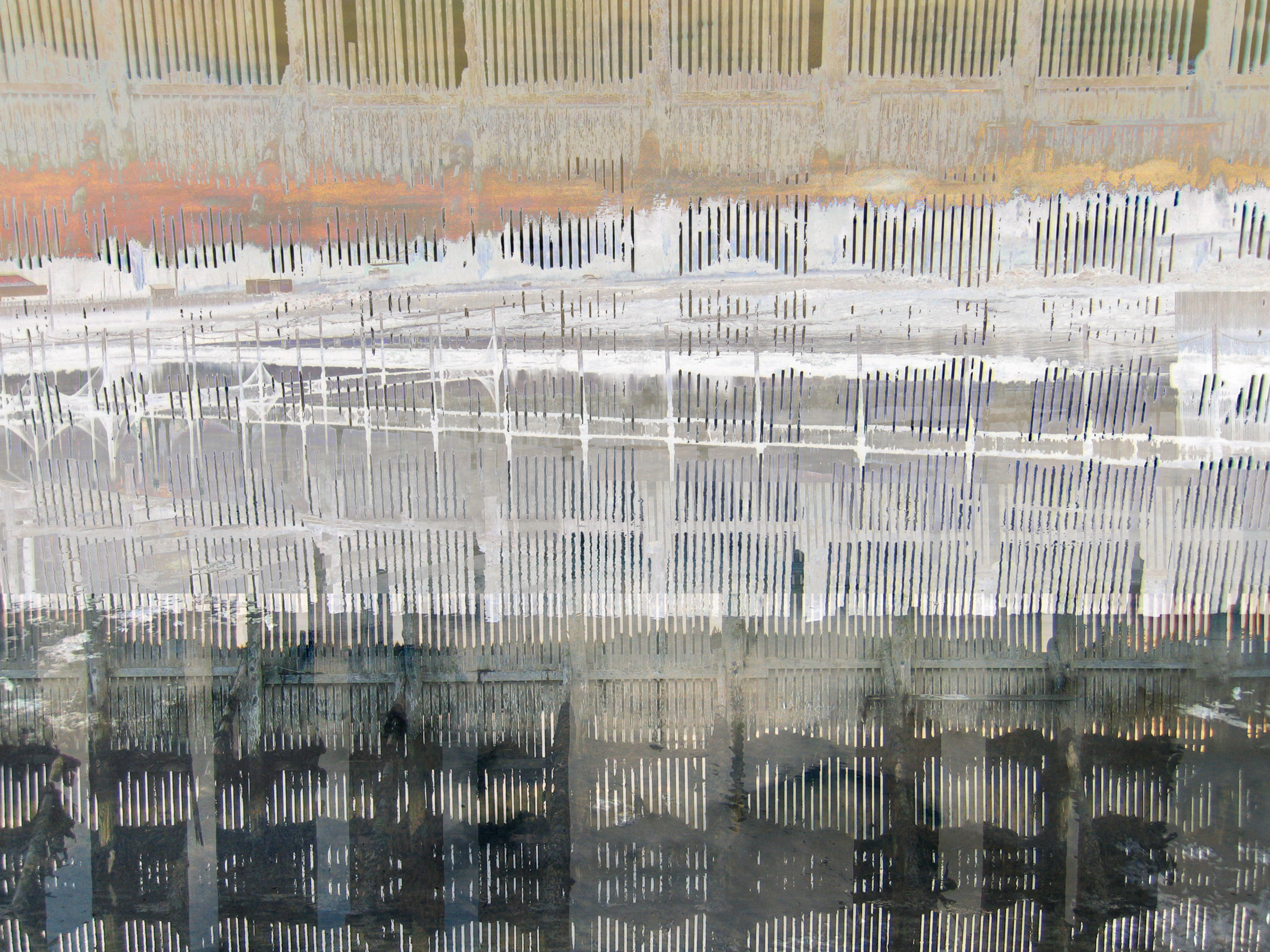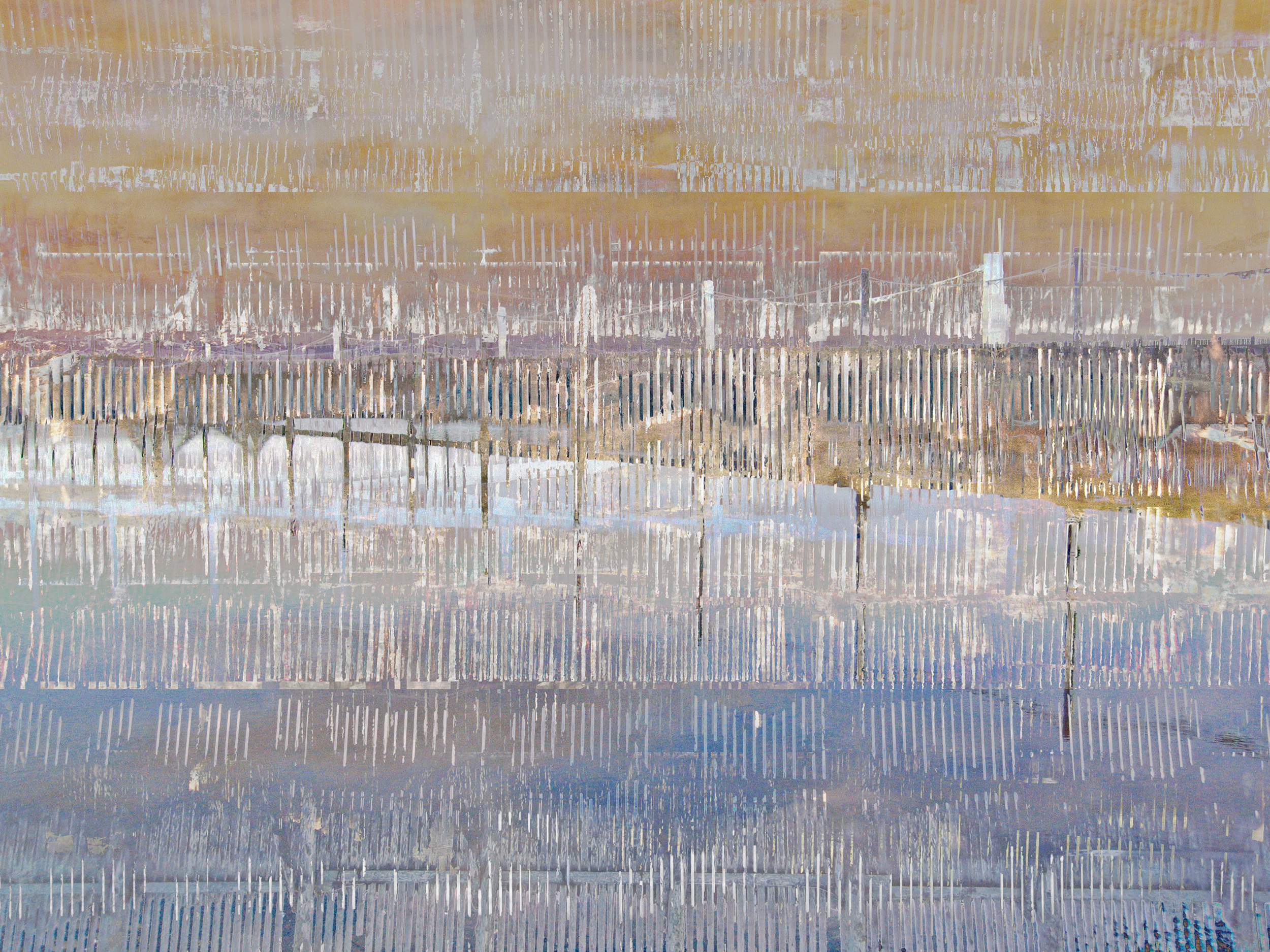 pigment prints dimensions variable 2010
Lobster Flats
phrases of randomized text are central elements in the published book.
click below for partial preview. Click here for FULL BOOK PREVIEW and purchase.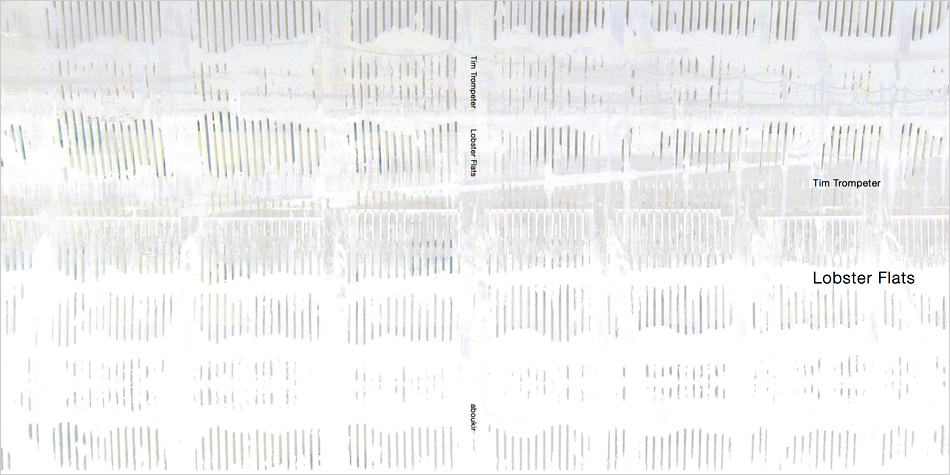 30 x 40 inch Lobster Flats prints in the studio prior to exhibition in 2011



© 2021 Tim Trompeter